10 Best Christmas Pen Gift Sets for 2019
Christmas is coming, are you looking forward to receiving a special Christmas gift? Or you want to give gifts to your friends, colleagues, classmates who are calligraphy enthusiast. A pen gift set is the perfect choice. Today let's introduce 10 best Christmas Pen Gift Sets for 2019.
1. Christmas Pen Gift Sets -  Christmas Edition glass dip pens
Have you ever tried glass dip pen? Glass dip pen is a handmade artwork of crystal glass, glass dip pen is not just a fine writing instrument, many pen enthusiasts have a collection of glass dip pens, not only for the large variety of elegant designs, but also because you can easily change between colors when you want to write with multiple inks. These Christmas Edition glass dip pens are the holiday designs made by LX Studio. Each design contains one of the traditional Christmas decorations. Best gift ideas for your friends and family who loves calligraphy. 
view more: https://glassdippen.com/products/christmas-edition-glass-dip-pen
2. Christmas Pen Gift Sets - rainbow retro glass dip pen
The Rainbow Glass Dip Pen is one of the most popular designs in our Thor series. This is a Retro Glass Dip Pen, the pen comes with glitter inks. All glass dip pens in this collection are handcrafted by the artisans from LX Studio. Each pen is an elegant glass writing instrument with a symbol of the universe in it. The color of the pen changes when you see it in different angles. Our glass dipping pens are beautifully balanced and have a comfortable grip for both left-handed and right-handed person. This collection is a work of art and a writing piece that any serious writer will want in their collection.
view more: https://glassdippen.com/products/handmade-rainbow-retro-glass-dip-pen-set-with-ink
3. Christmas Pen Gift Sets - Modern Classic Fountain Pen with Ink
This fresh, elegant, reliable fountain pen from Modern Classic Collection is a true marriage of the sophistication of finer days with the latest technology of modern times. Hand assembled and checked for flawless quality, it gives high precision and exceptional writing comfort for every occasion, coupled with a gorgeous design. With this pen in your possession, clients, colleagues, and friends will know you for your taste, class, and sophistication. Upgrade your pen collection today. This is the fountain pen of fountain pens, and a must-have for any fountain pen user. It is the perfect gift for yourself, your family, your clients or anyone who values the joy of writing with a sophisticated writing instrument. 
4. Christmas Pen Gift Sets - New model wooden calligraphy pen set
The pen is all natural and handmade. When the classic pen and the stainless steel nibs provided are used together, the pen glides effortlessly. The ink is long lasting and fade resistant. This makes an excellent gift. The packaging in itself is well presented. It has a lovely design in a classic style. It is suitable for people of all ages and with all experience levels. A thoughtful present that can be enjoyed by anybody from students to seasoned calligraphers, Parents, friends and even children will appreciate this pen . A truly remarkable item that can be given for Christmas, birthdays, anniversaries.
5. Christmas Pen Gift Sets -  Candy Cane Shaped Ballpoint Pens
These ballpoint pens are designed with cute umbrella design, which is simple but lovely, it's eye-catching when you use it, can bring you a lot of fun, suitable for journals, notebooks, registration books, opening ceremony, birthday, awards, and ideal gift for your friends, family members or personal collection. These snowman pens are made of plastic, which is non-toxic and odorless, durable and sturdy, lightweight and smooth writing.
6. Christmas Pen Gift Sets -  Premium Vintage Quill Pen
High material alloy nib, smooth for writing, wear-resistant, and not easy to damage. Copper Pen stem and real feather make our pen to be stored for many years. Lightweight, very comfortable to hold, thus very handy to practice calligraphy with it. This is a dip pen, made of natural feather and alloy, elegant, antique, and unique, this traditional set blends a centuries-old art form with your unique 'hand' for a creation conveyed in thought and design. GC dip pens provide superior control and stability delivering smoothness and an easy ink flow. The pen design allows fool-proof writing helping you hit that sweet spot with ease.
view more : https://www.grabwishes.com/products/premium-vintage-quill-set
7. Christmas Pen Gift Sets -  Christmas Snow Fountain Pen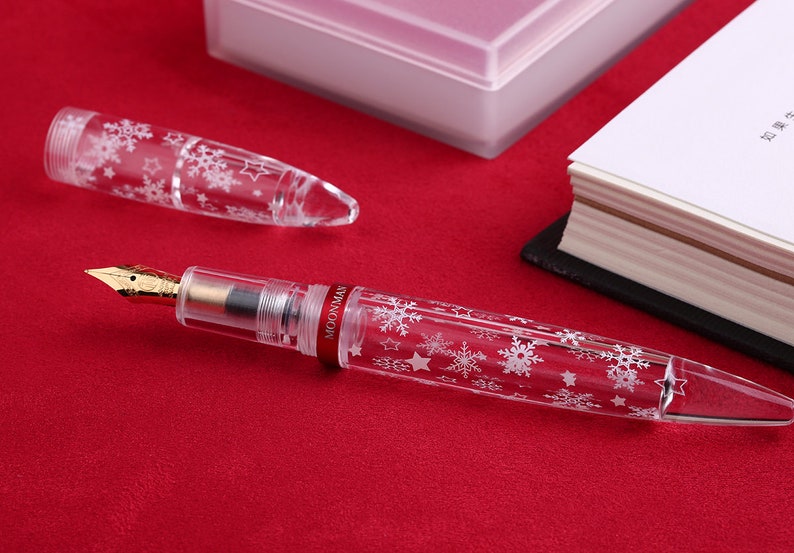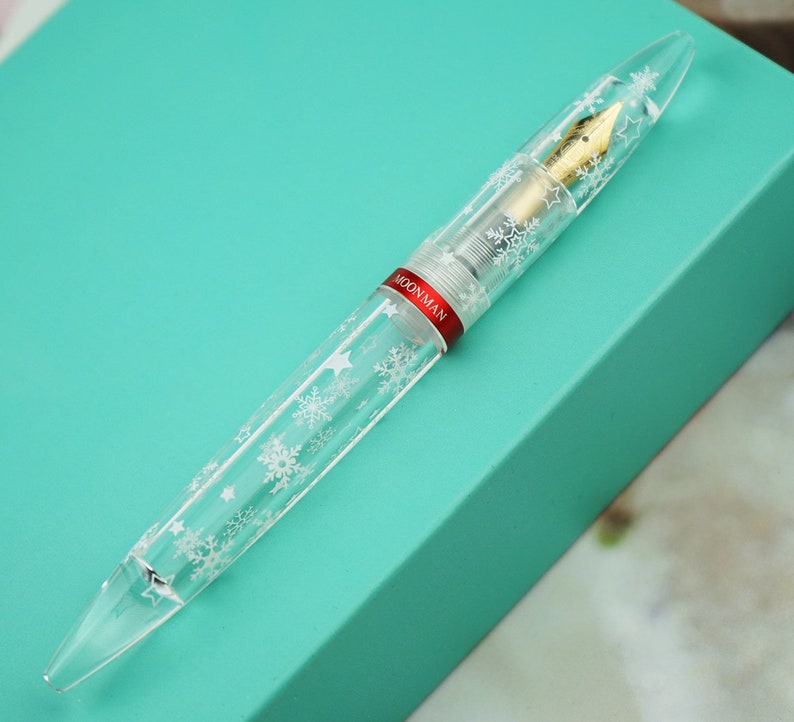 It was made with a lovely original bullet-shape design and is well balanced. It uses high quality Acrylic which looks crystal clear, so you can see the ink slosh around in the barrel. Filling it up is very easy , as it is equipped with three gaskets in key positions to avoid leaking ink–you don't even need to use silicone grease to seal the threads. It is perfect for business trips, signing documents, travel, and handwriting in daily use–simply fill it with your favorite ink and slip it in your pocket.
view more:https://www.etsy.com/hk-en/listing/733678546/2019-moonman-m2-fountain-pen-christmas
8. Christmas Pen Gift Sets -  Handmade Metal Beadable Ball Pen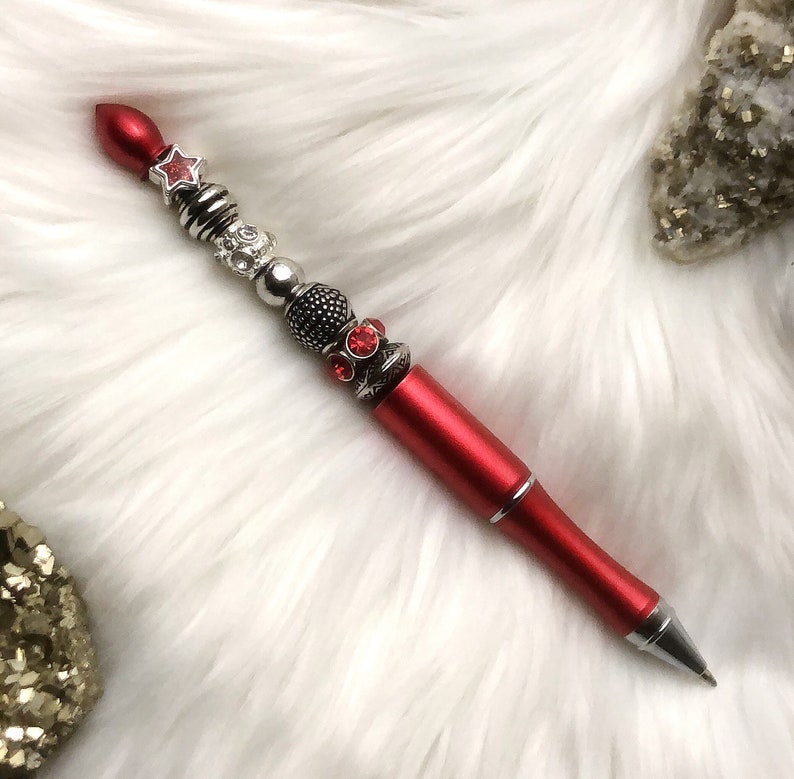 This beaded pen will make a nice decorative piece on your desk or a one-of-a-kind gift item. The unique design of beads combination spins freely, so each time you pick up the pen; you get a different view of the composition of the beads. You can get the stylus to replace the original top of the pen to make this a dual purpose pen. It's a writing instrument as well as a stylus for your mobile device.
9. Christmas Pen Gift Sets - Feather Dip Pen
The charm of simpler times! What could be more elegant than penning a letter with a feather quill pen? This beautifully rendered Feather Dip Pen Gift Sets come in unique themes. Each includes a real goose feather quill and an apothecary ink jar. 
10. Christmas Pen Gift Sets - Calligraphy Pens for Beginners
The shorter length means that most of the pen fits right in your hand, and the thickness assures that more of the pen is touching your hand. This helps you to garner more control over your writing device, as opposed to having a long or heavier back end of the pen, or the grip of it only touching your fingertips. Working with a thicker grip is perfect for users new to calligraphy because it helps train your hand from the beginning to have a looser, wider grip on the pen. This will help you loosen up while writing, getting into the graceful rhythm needed to create thin hairlines and consistent ovals. This also trains you to not write with your fingers but to instead use a full arm movement.
After introducing so many Christmas Pen Gift Sets for 2019, hope you can get your right one.